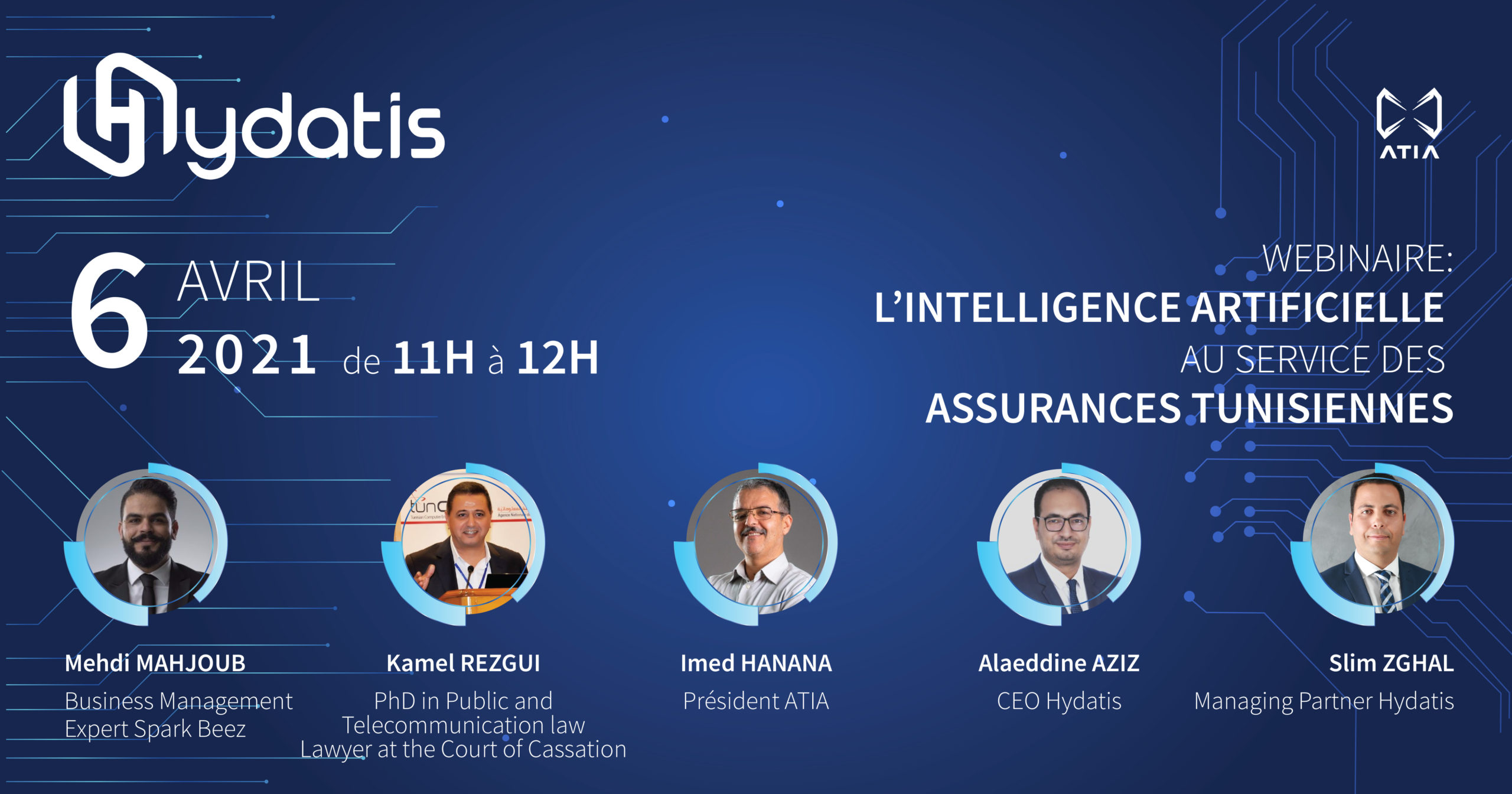 Hydatis , en partenariat avec l'ATIA(Association Tunisienne pour l'Intelligence Artificielle) ,organise un webinaire sous le thème « L'intelligence artificielle au service des assurances tunisiennes», le Mardi 6 avril à 11H .
La digitalisation et les nouvelles technologies ont radicalement modifié l'activité et l'environnement de l'assurance. Le foisonnement de ces technologies invite les assurances à redoubler d'efforts quant à leur offre digitale afin de renforcer leur activité traditionnelle et diversifier leur offre de produits. Cette orientation stratégique est un impératif pour répondre aux besoins et exigences d'une clientèle dont les habitudes financières sont entrain de muter et le comportement a profondément changé depuis l'avènement de la révolution digitale. A cet effet, la question de l'approche gagnante pour concilier le monde de l'assurance et celui de l'intelligence artificielle mérite amplement d'être posée.
Thème 1 : État des lieux du secteur des assurances en Tunisie
Thème 2 : État des lieux de l'intelligence artificielle en Tunisie
Thème 3 : Quel apport de l'IA pour l'assurance ?
Thème 4 : Use case : Actuarial Ai Pricing by Hydatis
Les speakers de notre webinaire :
Alaeddine AZIZ : CEO Hydatis
Imed HANANA : Président ATIA
Kamel REZGUI : PhD on public and Telecom law / Lawyer at the Court of Cassation
Mehdi Mahjoud : Business Management Expert Spark Beez
Slim Zghal : Managing Partner Hydatis
Pour participer il suffit de remplir le formulaire d'inscription via ce lien : http://bit.ly/3tubC0h
Après inscription, un e-mail de confirmation sera automatiquement envoyé contenant les instructions pour rejoindre la web conférence.